As we move closer back to normal after 2 years of lockdown restrictions and COVID-19, now is the perfect time to get together with friends and family and enjoy what the beautiful Surrey Countryside has to offer.
There is much to be enjoyed when trying out a new walk route or two around Surrey and there are plenty to choose from. For many for whom Covid is still a concern, finding a route that allows for a level of social distancing may be key in finding the right location.
From South Downs National Park to the exceptionally beautiful Surrey Hills, there are plenty of easily accessible walking routes available that allow you to explore miles of beautiful tracks and nature all whilst allowing for lots of space and social distance.
This guide will provide you with several different options with varying lengths, as well as information on parking options and key landmarks to visit.
So get your walking boots, map and binoculars ready as we at Cavender guide you through the
best walk routes in Surrey.
Box Hill, Tadworth - Walk Route Guide from an Estate Agents Guildford
One great location for a walk-in Surrey is Box Hill. This beautifully scenic route is known for its diverse range of butterflies and its breathtaking views across the North Downs. It was also the central feature for the 2012 Olympics cycle road races. Perhaps the most notable of sights on this route is the view from Salomons Memorial at the start of the route.
Leith Hill, Dorking
This stunning woodland walk passes Leith Hill Tower which also happens to be the highest point in South-East England. For this reason, you should be sure to remember your camera. The common route from Leith Hill to Holmwood Common spans around 6 miles, making it a slightly easier walk than some.
However, the walk may also be divided into two varied shorter walks. Furthermore, the Holmwood route is around 6 and a half miles and passes Holmwood Common as well as Coldharbour and Ansiebury. The Leith Hill Loop, as the name suggests goes over Leith Hill and spans around 6 ¼ miles.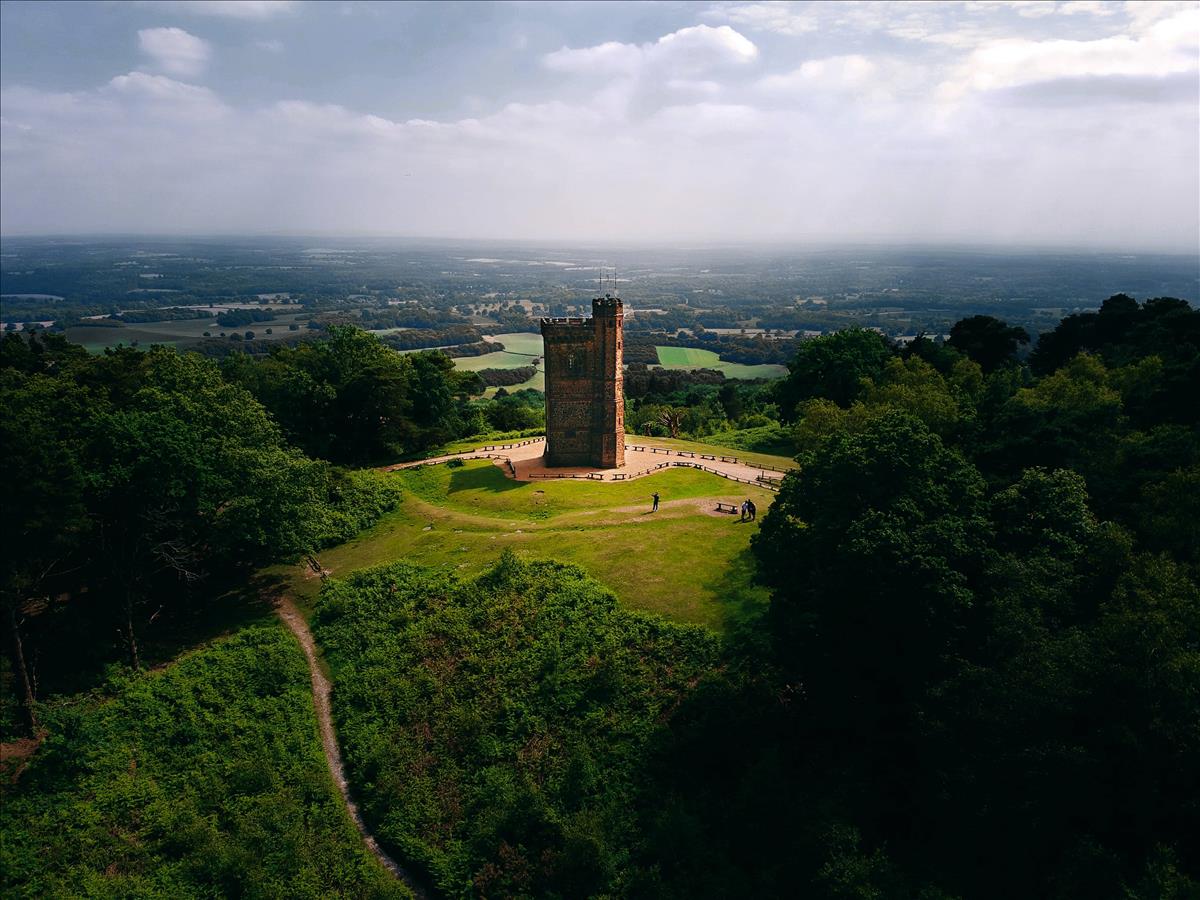 North Downs Way, Farnham
This route between Farnham and Guildford is around 10 miles. It begins in Farnham and is the start of the North Downs Way. This journey begins following the River Wey then through woodlands and open fields too, providing views of the Hog's Back.
Continuing through this route you will go around the North edge of Puttenham Common then into the village of Puttenham too. From here, you will pass through the Loseley Estate and the banks of the River Wey to the South of Guildford where you will soon reach the South Wey Path just a short distance from Guildford centre.
Devil's Punch Bowl, Hindhead
This is yet another fantastic circular walk route from Haslemere Rail Station passing through surrounding heathland and farmland, Devil's Punchbowl and Gibbert Hill. This route spans around 9 miles, taking in spectacular views such as the sight of the distant London Skyline. Along this route you may also get to see grazing cattle and other forms of wildlife too. In taking this route, you should be sure to check out the eastern side of the Devil's Punch Bowl where the views across the valley make for perfect picture opportunities. Should you wish to drive to the site you will easily find somewhere to park with a National Trust owned car park located nearby.
Runnymede, Egham
This walk goes between Englefield Green then on to Egham, Windsor Great Park and back again for around seven miles. This journey is sure to be filled with excitement as you visit the birthplace of the Magna Carta and several memorials on the riverside walk. Furthermore, the journey connects the Thames at Runnymede, starting and finishing next to the Fox and Hound pub meaning you can even stop off for a drink once the walk is through!
North Downs Way - Walk the Chalk!
Starting from Dorking Rail Station, this walk will take you on an adventure exploring the slopes of the North Downs as well as some of the most beautiful chalk grasslands in Surrey. There is sure to be wildlife to spot if you keep a keen eye and plenty of spectacular views so you should be sure to bring a pair of binoculars and a camera too! For many history fanatics, there is plenty to be excited about too as the viewpoints along the North Downs were fundamental during WWII as shown by a large number of pillboxes in the area. This area is home to so much unique wildlife that the area has been declared a site of scientific interest.
Ranmore Common, Dorking
This one is a slightly shorter route at around 5 miles, starting from Ranmore West. Passing through Denbies Hillside and Ranmore Common you will be sure to marvel at the surrounding scenery and some of the best chalk grasslands in the South East. The Downs lead towards Westcott, a beautiful village with much to offer. If you choose this route you will start in the car park into a dense silver birch woodland just a short distance away. The trail is signposted for the North Downs way and begins downhill, making for an easier start to your journey.
Woldingham Countryside Walk
Another shorter route at around 5 miles is Woldingham Countryside Walk. On this journey, you will be able to explore various woodlands, valleys, and chalk downland. It is suggested you allow at least 3 hours to enjoy the route fully. There are also several shortcuts should you wish to make the walk a little shorter and is marked with signposts and waymarks for easy navigation.
Throughout this journey, you will pass rich chalk grasslands with their beautiful purple orchids as well as St John's Wort. Plants and flowers you may come across include primrose and violets. Dog's mercury and mosses are also very common under hawthorn, hazel and field maple.
Dunsfold, Cranleigh
This route passing Dunsfield, Hambleton and Hascombe is a little longer than some of the others we have previously mentioned at 12 miles but has much to offer should you wish to give it a go.
It starts from the stunning 13th-century Dunsfold Church. This is a great location for any history fans as the building stands on the site of a Saxon burial ground. The journey also passes through various woodlands and hills of South West Surrey.
During the first part of the walk you will also spot Hambledon Church and pass the White Horse pub should you wish to stop for a drink.
Another spectacular site on this journey is the lake at Hascombe with its surrounding church and cottages.
On the second part of the journey, you will go from Hambledon Church to Hascombe then return to Dunsfold Church.
The journey is mostly flat but good walking shoes are still recommended because of the distance of the walk.
Frensham Ponds, Farnham
This gorgeous walk route includes Frensham Great and Little Ponds as well as the picturesque River Wey. The walk is 8 miles in total and starts and finishes in the main car park of the Frensham Ponds Visitor Centre. On the journey, you will follow public footpaths and bridleways crossing both private and public land. Be sure to bring good boots as some of the woodlands are known to get rather muddy.
Summary
From the stunning views of the North Downs Way to the diverse nature at the Devil's Punchbowl, Surrey has plenty of incredible walk routes that are sure to take your breath away. Get your walking boots, binoculars and camera ready because now is a great time to escape to the countryside, especially after a gruelling two years of Covid-restrictions. The various walk routes around Surrey have plenty to offer for the whole family and make for amazing photography opportunities with the diverse range of wildlife you will encounter on these routes.
There is also a range of varying lengths of walks between 5 and 12 miles between these routes as well as plenty of possible shortcuts and alternative routes you can take. Should you be a keen fan of history there is also plenty to see along some of these routes such as the 13th-century Dunsfold church in Cranleigh which stands on the site of a Saxon burial ground as well as the birthplace of the Magna Carta in Runnymede, Egham.
Letting Agents in Surrey
Cavender offers a complete and comprehensive range of services that can be tailored precisely for your needs and requirements. Come and speak to us to discuss how we can support you with your journey. Speak to one of our trusted expert team today on 01483 457728 for our Guildford office or 0208 092 5225 for our Kingston Upon Thames office. Alternatively, email us at info@cavenders.co.uk, we'll be more than happy to discuss your requirements!