Sometimes learning a little bit of DIY can be very valuable in helping your manage tasks around the home. It may also be beneficial in helping you save money as you don't have to pay for the services of a professional. However, should you find yourself in a DIY SOS situation, you may find yourself paying far more than expected in the long run.
For this reason,
Cavender Estate agents in Kingston
has put together this handy tips list of tips for your home DIY ventures.
We will help cover questions regarding what you should DIY and which things are best left to professionals. Let's get into it!
Should I Even DIY in the First Place?

When carrying out DIY, you should always ensure that you have a clear idea of why a job needs doing as well as the objectives you are setting out to achieve. Answering these questions will help determine whether or not you should seek specialist support.
It is recommended that some jobs, especially those relating to plumbing and electronics that you should not attempt yourself. The reason being that tasks such as these may pose a potential health and safety risk and also may be against building regulations.
Often the answer to this question will vary on a case by case basis. For instance, where walls are bumpy, you may ask yourself how flat you need the wall to be so you can choose between paint and wallpaper. If the answer is that it doesn't matter too much, then you can probably get away with sanding the wall and filling in cracks yourself. However, in the latter scenario, you may wish to seek a professional plasterer.
In making this important decision, be realistic. Carefully consider what could go wrong and what impact any mistakes will have.
Safety First! - DIY Tips from an Estate Agent in Kingston

Before carrying out any DIY tasks around your home you should always be cautious of any potential health and safety risks. This may include working at heights, using sharp and powerful tools or whether you own any appropriate PPE.
You should never put your health and safety at risk when making changes to your home.
Consider Your Timeframe

Another key DIY tip from an estate agent in Kingston is to consider your time scale. Often people will fail to consider how long a task will take when planning work. If a job needs to be done in a short period of time and you are new to the task, you may wish to consider seeking a professional.
The last thing you want to do when carrying out DIY projects is to rush the task. This can result in you cutting corners which will ultimately end with a poorer end result.
It gets worse as any damage or sloppy finishes can affect a property's resale value. For this reason, think carefully about the amount of time you have and whether you can realistically do it well in that time frame.
Make Sure You Have The Correct Tools and Equipment

You may already own of a selection of DIY tools. However, if not you need not worry as many tools are usually quite cheap to acquire. Most small power tools you might need will come at a modest price, often between £50 and £100.
Many of these tools will also be a worthy investment in the long run. For instance, a drill and associated parts will help you with many tasks from hanging shelves to mixing sand and cement and much more.
Additionally, you should also ensure that when you do carry out home projects, you are sure which products and tools you need. It can be overwhelming when you go to a DIY store and see the abundance of tools and products. However, you should still make sure to take the time to do your research and get the right items otherwise even the simplest of tasks may become impossible too.
Be Careful Around Pipes and Wires!

Even for the most simple of DIY jobs, you may find yourself in a lot of trouble if you fail to consider what lays behind walls. In some cases, you may be able to use intuition to determine where pipes and electrical wires are likely to be located.
Likely places where you will need to be careful may include near radiators, sinks, lights and switches. You may wish to invest in a high-quality multi-detector, to pipes, wires and wall studs.
Painting for a Quality Finish

One of the simplest DIY jobs you can do is painting. However, do not let the simplicity of this task allow for overconfidence. There is a lot you need to consider to ensure that you do the best job possible.
Firstly, make sure to prepare for painting properly. From filling to sanding, these small factors will make a world of difference. You should also ensure that you cover any furniture or floors in the area to avoid leaving marks.
Once you have gone through the preparation stage, you should paint in a certain order for a top-quality finish. You should paint from the top down. Start from the ceiling first before you move any walls and woodwork.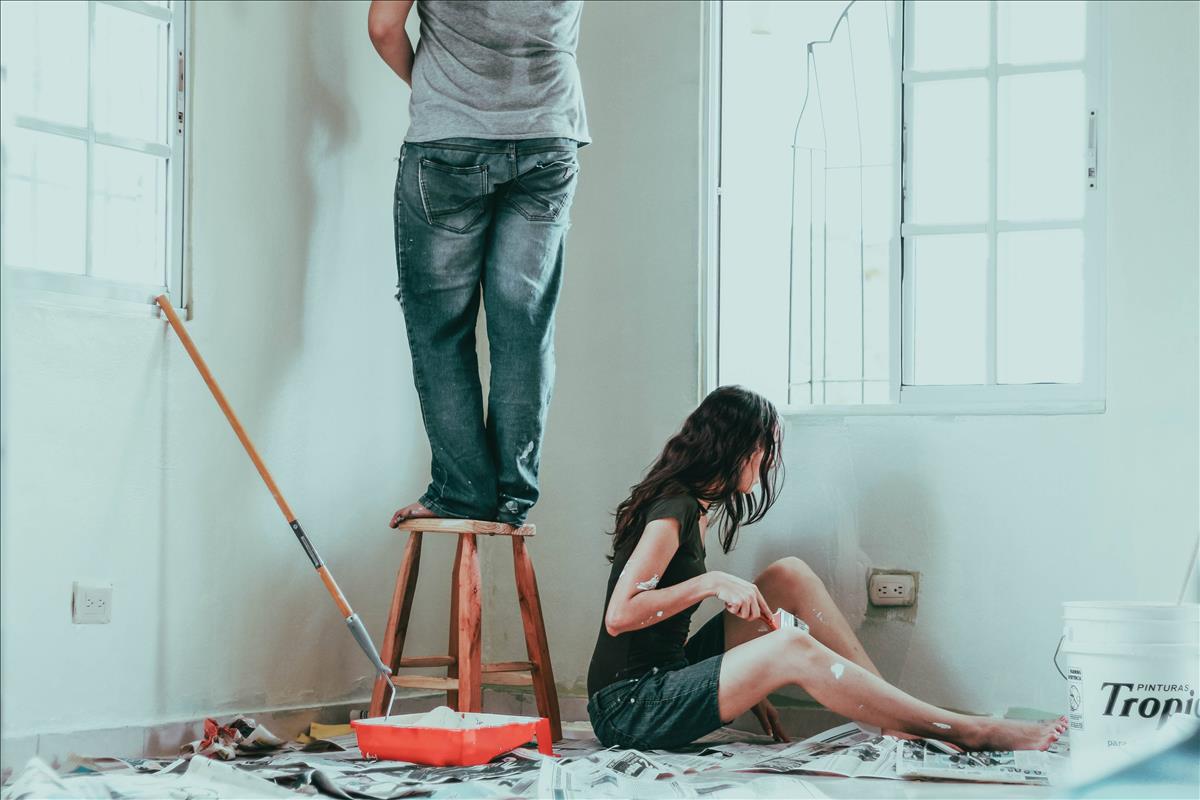 Painting Floorboards

Before you paint on any floorboards you will need to ensure that there are not any nails or screws that stick out. Make sure to screw down any loose floorboards and fill holes with a wood filler.
Additionally, you should ensure to give the floor a quick brush and then sand with an electric hand sander, if you have one. However, for a quick and smoother finish, you may wish to consider hiring a disc sander. Also ensure that you both sweep and clean with a mop and warm water, then leave to dry for at least 24 hours.
To ensure your finish is both long-lasting and durable, use specialist floorboard paint. However, when using floorboard paint you will need to check whether you need a primer or undercoat. When applying this, you should use a roller or long-handled paint pad. When doing so you will likely need a minimum of two coats and you should remember to let it dry properly.
Painting for Interior Window Frames

In most cases, interior windows are often commonly wooden and painted white. The reason being that white is a neutral colour that works well with most other colours. That doesn't mean to say that you shouldn't experiment with other colours should you feel adventurous.
When starting, you will want to sand down the frame with some grit sandpaper. You should also use a dry paintbrush to brush away dust and debris. Following this, you should wipe down the frame with a damp cloth and leave it to dry.
Following these steps, you should use painters tape to mask off all edges, especially including those that meet the glass. Next, apply an undercoat with a 2-inch brush. Use a smaller brush if necessary for smaller and more intricate areas. Then start from the top and work your way downwards, dabbing paint into corners and evening out using a brush.
Lastly, let the coat dry and rub it down with sandpaper before applying a second undercoat. Once it is completely dry, lightly sand down and add the topcoat. Once dry you may also be required to add another topcoat.
Make Time To Tidy Up Afterwards!

So far in these top tips from an estate agent in Kingston, we have covered many areas from health and safety, to picking the right equipment and painting techniques. But what about after you have completed your task? After any major DIY session, you will need to clear up and tidy away. This can be exhausting, especially if you have just used a long time completing your task. However, ensuring you do so straight after will prove for a far more pleasant experience once you are through.
You will want to ensure that tools are stored back in an appropriate place. Storing tools in the garden may make them vulnerable to getting wet and rusting.
Summary
We hope you have found these top DIY tips from an estate agent in Kingston useful. Learning a little DIY can be extremely useful in the long run in saving you time and money. However, you will need to always ensure you prepare adequately to prevent any mistakes, especially where health and safety is concerned. Where you are uncertain, always seek advice and services from a professional. The last thing you want is to cause further damage to your home, which will affect your home's value on the market should you ever wish to sell it.
Letting Agents in Surrey

Cavender offers a complete and comprehensive range of services that can be tailored precisely for your needs and requirements. Come and speak to us to discuss how we can support you with your journey. Speak to one of our trusted expert team today on 01483 457728 for our Guildford office or 0208 092 5225 for our Kingston Upon Thames office. Alternatively, email us at info@cavenders.co.uk, we'll be more than happy to discuss your requirements!